WVAU 2015: Best Rackspin Find
Ian Evans, Dani Rosen
December 19, 2015
Royal Headache- High
Courtesy of  Stereogum
I was rummaging through the rack looking for material for my first show when I stumbled upon Royal Headache. Although High was put on the rack at the beginning of the semester with no review, the album unexpectedly became part of the soundtrack to my semester.
The album contains some terrific tunes such as "My Own Fantasy‰" and "Another World,‰" but, if you listen to one song from this album, please listen to the title track, "High‰Û. The Australian power-punk band really comes into their own with this song. "High‰" really gives off the moldy basement vibe in every way possible. At its foundation is the thud of a trash drum kit and a blanket of guitar fuzz. But bursting through the noise is the passionate yell of the most-of-the-time shirtless singer, Shogun.
Make no mistake, the vocals are neither crass nor cacophonous. Rather, the vocals, in "High‰" epitomize the balancing act that makes Royal Headache‰'s music great. The lyrics are plainspoken but emotionally honest. In the tune, Shogun‰'s vocals summon a passionate and raw quality while revealing an inner sensitivity and sweetness. Similarly, in the instrumental break in "High‰Û, the guitars blaze with distortion while they belt beautiful ringing part. Something about the lo-fi nature of "High‰" and the entire album might give the impression of chaos and haphazard arrangement. To the contrary, however, the organization of sounds from the rhythm section foundation all the way to the vocals work together in a precise way to make a great track. One could easily reimagine many different stylings of "High‰" because of its simplicity and honest lyrics. I think that‰'s the reason why High was so successful for me. The songs in no way attempt to veil or complicate human emotion. Each tune says exactly what it wants in a clear way and will not compromise
-Ian Evans
Skylar Spence- Prom King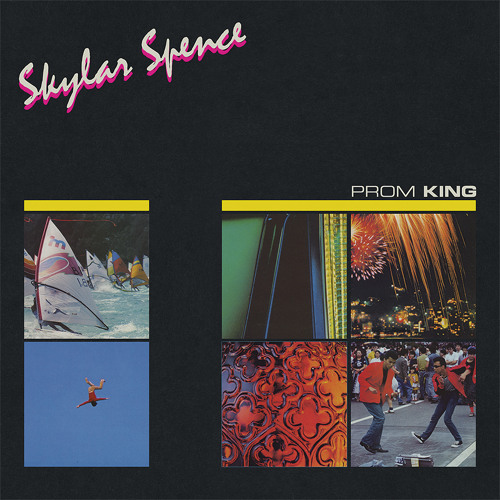 Courtesy of  Soundcloud
Finally, Ryan DeRobertis aka Saint Pepsi aka Skylar Spence is singing his own tunes instead of remixing the work of others. Prom King is dance music with a punch, the throwback without actually throwing back that we didn't know we needed. There's no costume in the album that is present in many other disco pop works- it's honest and it's pure.
As a rackspin, Prom King is incredibly solid. It's versatile sound makes it fit for so many different kinds of sounds and shows. The best rackspins aren't niche- they're something that everyone can see themselves enjoying. Spence doesn't work to make his music sound like everything else you're hearing in the indie pop world- it's different and that's good. There hasn't been a week where I haven't put this album on either in the studio or on my own musical time.
The instrumentation in Prom King is all over the map and it wouldn't make sense for it to be any other way. From synth to R&B vocal samples, the sound is unlike anything else you've heard this decade.
I couldn't "Fall Harder" for this album out of my friends at Carpark Records and I can't wait to see these songs live in just a few months.
RIYL: Filous, his other work as Saint Pepsi, a toned down version of the Chainsmokers
Recommended Tracks: 3, 4, 6 and 11
-Dani Rosen