Middle School Gothic: The Crybaby Concept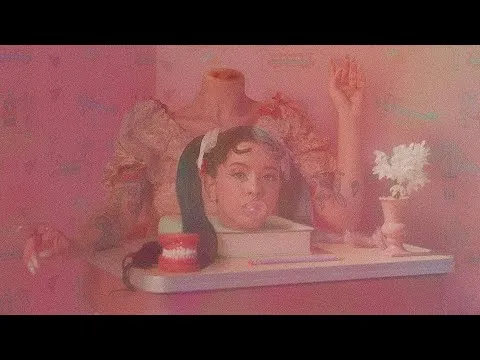 Concept albums have a special place in my heart. Something about telling a story through the concepts of music and taking the listener on a journey always resonates, and the commitment to artistry and creativity by the artists can be a joy to watch. A good chunk of my favorite albums have fallen under this umbrella, from Glass Animals' How to be a Human Being to Lorde's
Melodrama and even Halsey's Badlands from the last column. Because of that, I was always going to be sympathetic to the Melanie Martinez cause. It's what she did best on her 2015 debut album, Crybaby, a concept album that tells the story of titular character Crybaby and her dark and twisted childhood through dark alternative pop beats and subverted childish imagery.
Melanie Martinez got her start on The Voice, where she placed third on her season after famously auditioning with a cover of Britney Spears' "Toxic". Two years later, she released debut EP Dollhouse which laid the foundation for Crybaby in 2015. It was an immediate hit, hitting Top 10 on the Billboard 100 and number one on the Alternative charts. People were drawn to it for its wildly unique concept and stylization. Unsurprisingly, Martinez considers herself to be a visual artist just as much as a musician, which has been reflected in her career. Martinez's image was her music, and her self-directed music videos were just as important to the music as the songs themselves. Music videos like Dollhouse have more streams on Youtube than they do Spotify, and in every live performance she stayed committed to the babydoll quasi-lolita aesthetic.
Crybaby found itself a cult following online, with mostly teenagers who had also been fans of artists in a similar vein to Lana Del Rey and MARINA. Her music explores similar dark themes through the grungy pop lens, made with the help of a hip hop production team called Kinetics & One Love, which shines through in the modern dance beats that underscore the otherwise very, very dark lyrics. At its best, this works to create subversive and creative alternative pop, but the music is often hindered by just how disturbing the stories are that she tells. Even at the height of her fame, a sizeable amount of people online were openly turned off by the baby image juxtaposed against adult themes like domestic violence, drugging, rape, and murder.
Quick warning – this next paragraph is going to discuss themes of sexual assault.
The song "Tag, You're It" is perhaps the worst example of how her lyrics veer into a very uncomfortable territory. The song itself follows the main character of this concept album, Crybaby, as she is kidnapped and raped, through the metaphor of the children's game tag. Lyrics like, "Eenie meenie miny mo/Catch a lady by her toes/If she screams don't let her go " are used to illustrate this narrative, with a music video showing the story unfold. Listening to it feels strange, especially considering the fact that this is a fictional narrative, and the ethics of Martinez using this kind of very real trauma to fictionalize in her pastel goth universe are questionable at the very least. A couple of other songs fall under a similar umbrella, riding more on the shock value than the actual quality of the music.
However, when she sticks to the lighter and more abstract, her abilities shine through. Songs like Mrs. Potato Head, Pity Party, Mad Hatter, and particularly Play Date shine with their unique and catchy production as well as clever lyricism. She demonstrates is truly capable of taking a theme, building it out, and developing a one-of-a-kind sound for herself. These moments showed huge potential for later stardom, leaving people anxiously waiting to see what she would do next. The album was immensely successful and she later embarked on an equally experimental tour from 2015-2017.
After Crybaby, however, her career took major blows. Once the tour ended, opening act Timothy Heller accused Melanie Martinez of sexual assault, which she later denied. Despite this, her following never quite recovered. In 2019, she released Sophomore album and accompanying self-directed feature film K-12, which featured her baby aesthetic once again. It didn't do very well, likely because of the fact that her sound never evolved. She never did something different, just Crybaby repackaged, which as it turns out, is a concept that can only be taken so far.
Melanie Martinez and Crybaby's legacy remain complicated. Although ambitious and utterly unique, it trips over its own feet when Martinez pushes it too far. It's a piece of art unlike anything else, and for that she deserves praise. There's a reason songs like Play Date blew up again in 2020, and she remains beloved still with a committed fanbase. However, her commitment to the darkness and baby aesthetic hold her back from evolving as an artist, leaving her stuck in a very small niche.