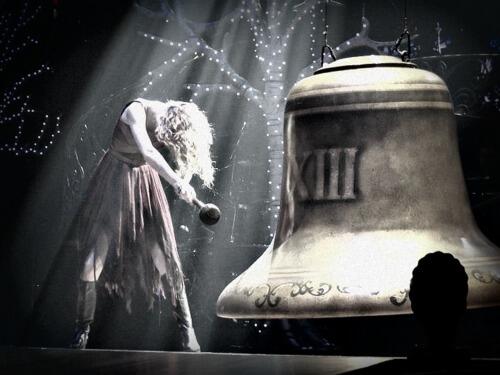 An Ode to Church Bells in Modern Music
November 20, 2022
A few days ago I was, as many of us have been, listening to the 1975's "About You" from their most recent album Being Funny In A Foreign Language. There are many reasons to love this song, and I agree with a lot of them: the nostalgia, just the overall sound, and Carly Holt's vocals, to name a few. But during this specific listen, I realized something both about why I love this song so much and why I love a good amount of my favorite songs. There is one instrument that "About You" and a few other songs that I'll mention later on, one that I believe is entirely too underrated: church bells.
"About You" has, as far as I know, a single chime of a bell during its bridge, but that's really all it takes for me to be completely captured by it. To me, church bells in music bring about such a dramatic effect that no other instrument can replicate. 
Another example of this effect can be found in Coldplay's "Viva la Vida". Already, the song is about mourning an epic loss, whether you take it literally as a monarch losing his kingdom during the French Revolution, or more figuratively as an average person losing something that meant a great deal to them. The bells behind the vocals and strings add a layer of longing for the past.
In "Back To Black," by Amy Winehouse, the bells accompany Winehouse as she sings about a relationship's end she just cannot cope with, even as the other person is able to move on. In "Haunted" by Taylor Swift, dramatic bells and strings emphasize the urgency of Swift's pleas for her failed relationship to come back to her, for the other person to not leave something unfinished. (In her Speak Now tour, Swift dramatically runs across stage while striking a large church bell during the performance of "Haunted". The dramatics!). In "Goodbye to Spring" by Josh Woodward, church bells are layered behind acoustics while the lyrics sing of an exciting but abrupt and somewhat scary change coming just around the bend. In "I Miss Those Days" by Bleachers, Jack Antonoff sings about how in looking back into his past, even if he knows he was a mess back then, he can't help but want those times back now.
So, going back to my seemingly ordinary listen of "About You," laying in my bed, I realized a third thing. The role of church bells in music is much more than just an added dramatic effect. Church bells and the grip they have both on song makers and me can symbolize a funeral of sorts (which is admittedly very fitting). Whether it be for a specific person and the relationship you had with them, like in "Haunted" and "Back to Black," or a time period like in "Goodbye to Spring" and "I Miss Those Days," or maybe even a mix of both, like in "About You" and "Viva la Vida". So if you happen to find yourself producing a song about loss and reminiscing, I highly recommend using even just one note of a church bell chime. I promise, it makes all the difference.