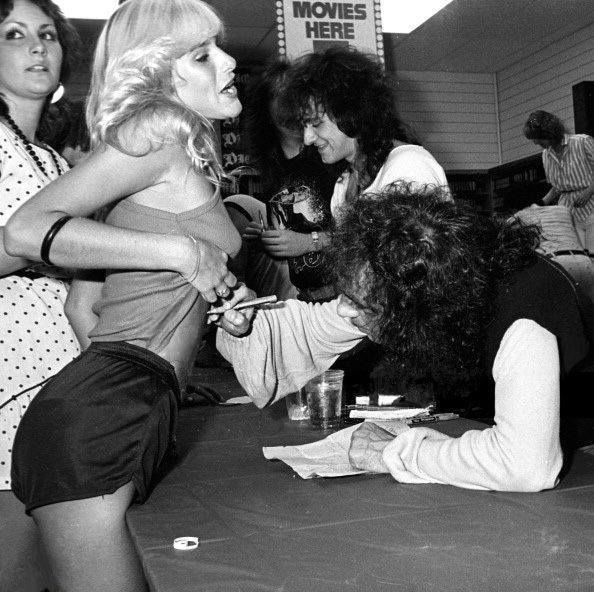 Groupies 101
February 27, 2023
Groupies –  brave women of the 20th century that inspired many rock songs, were key in the 70s feminist movement and in my opinion, were the backbone of the rock industry. Let's be honest here, groupies had a huge impact on pop culture, other than being inspiration for songs and some even becoming artists themselves, like Stevie Nicks. They were, and still are, icons who are not talked about enough.
There is a probability you may have heard of some famous groupies like Pamela Des Barres and Bianca Jagger (my Goddess, honest to God). The most famous groupie is arguably, as previously mentioned, Stevie Nicks. Many people are not aware of her past as a groupie, but we will cover it in another week here.
So what did the life of a groupie generally look like?  I mean touring with a band during the summer? Sounds amazing! Getting to always be around famous rockstars all the time in all honesty sounds like a dream. You could even end up marrying one in St. Tropez, like Bianca Jagger did. A life free of responsibility and pure fun, what more can someone ask for? Seems like a perfect way to live to me (that is why I am obsessed with them in actuality). They had the time of their lives and did not have a care in the world, living in the moment.
In reality it was not all glamor and fun, it was often times really dark. I'm not going to sugar coat things, a lot of them were minors, had drug abuse problems, and were taken advantage of. In reality a large majority of groupies did not come from rough backgrounds, quite the opposite actually. Majority of them came from middle class backgrounds, but were easily drawn in my the glamorous groupie lifestyle to run away from a restrictive society. They saw it as an escape from the traditional suburban life and a way to express their self and sexuality as well as a form of empowerment. It was a way to set their soul free, and the perfect way to escape the traditional way of life they were expected to follow. In many cases it did not end very well and were probably better off staying in their homes.
Groupies started to pick up traction after the release of Almost Famous, probably one of my favorite movies ever. One of the characters is the now famous Ms. Penny Lane, but she would say, "We are not Groupies. Groupies sleep with rockstars because they want to be near someone famous. We are here because of the music, we inspire the music. We are Band Aids." In actuality groupies have always been known since they are such an important part of pop culture in the 20th century. Their impact is bigger than people realize and it is important that people do.
The impact that groupies had is still being seen today. They were the trailblazers for the women's sexual liberation, without them we probably would not have had it until later on. Their fashion was camp if we are being honest here but it was amazing. They truly were the moment and half a century later (I can't believe it has been that long) they still are.