On Saturday, Sept. 30, and Sunday, Oct. 1, All Things Go (ATG) held its most attended festival, with 40,000 people attending over both days. What started as a 5,000-person event at Union Market in 2014 has grown yearly. Headliners over the years have included Billie Eilish, Lorde, and HAIM in the festival's effort to feature female, non-binary, and queer music. 
2023 was the second year I attended ATG, and it was everything I could have imagined. Headliners included Maggie Rogers, Mt. Joy, and Carly Rae Jepsen on Saturday, and Sunday hosted Lana Del Rey, MUNA, and Boygenius. However, some of my favorites, like Lizzy McAlpine, Peach Pit, and Ethel Cain, also performed, although not as headliners. 
On day one, I got to experience nine performances: Jensen McRae, Last Dinosaurs, Raye, Suki Waterhouse, Peach Pit, Dayglow, Lizzy Mcalpine, Mt. Joy, and Maggie Rogers. Here's a brief recap and rating of the performances from day one! 
Jensen McRae – 8/10. She has an amazing voice and was super endearing on stage. The standout song for me was "My Ego Dies at the End." Great opening to the festival!

Last Dinosaurs – 9/10. Fun indie rock band from Australia. They had an awesome stage

presence! Favorite songs from them: "Put Up With the Weather!," "Apollo," and "Zoom."

Raye – 10/10. I saw her open for Kali Uchis last May, so this was my second time seeing her, and I just

love

her. Beautiful, powerful voice and knows how to capture the audience's attention. My favorite song from her set is "Ice Cream Man," hands down. 

Suki Waterhouse – 7/10. I like her voice, and the song "Moves" is one of my favorites, but honestly, her set was just average. 

Peach Pit – 10/10. They were also at ATG last year, so this was my second time seeing them, and they are just so upbeat and fun. Who knew I loved Canadian folk music? Favorite songs: "Tommy's Party," "Techno Show," and "Give Up Baby Go." 

Dayglow – 9.5/10 – I didn't see the entire set, but I saw them in concert about two years ago and still love them just as much. Standout from the set: "Run the World!!!"

Lizzy McAlpine – 1000/10 – I cried. She sang an unreleased song for the first time, so I felt special. She was nervous, but I love it when artists humanize themselves. It's hard to

choose favorites from her set, but I'd have to say seeing "Orange Show Speedway" live was life-changing.

Mt. Joy – 7.5/10 – They were great; I just don't know as many of their songs as the other artists, and it was so crowded by this point. I love "Bathroom Light," "Silver Lining," and "Julia," though.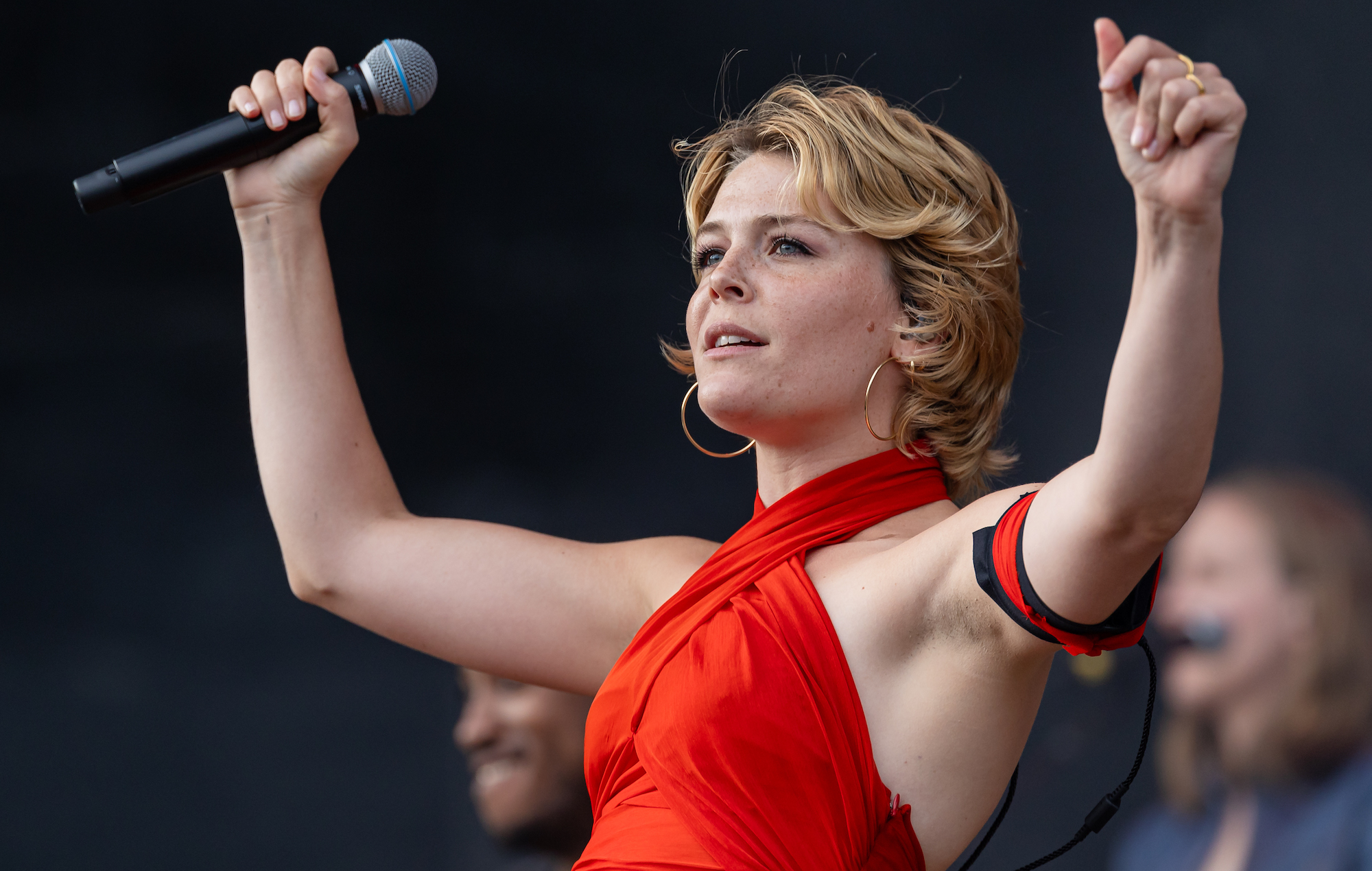 Maggie Rogers – 10000000/10 – She blew my mind. I didn't know many of her songs, but I didn't have to. Her voice is powerful, and the way she controls the stage and sucks you in is unmatched. My favorite performance of the entire festival, to be honest. Listen to her new album immediately, especially "Anywhere With You." 
By the time day two came around, I was exhausted from the first day but excited for what was to come. The crowd was insane on Sunday. No one had any concert etiquette; people were sprinting and stampeding; it was an experience, to say the least. I still had fun, but the vibes were not the same as on Saturday. However, I saw two of my favorite artists of all time on Sunday, so it was worth it. Here is a brief recap and rating for day two! 
Free Range – 5/10. Honestly, I just didn't think the band was strong at performing. None of the songs stood out to me, and I was so bored during their set, which was only 30 minutes long. 

Tommy Lefroy – 7/10. Wynter Bethel and Tessa Mouzourakis makeup Tommy Lefroy. They're good performers, but their songs are just not my vibe. My favorite one was definitely "Flight Risk," but only because it was 59 seconds long. 

Meet Me @ The Altar – 10/10. This performance was the surprise of the weekend. I had heard of MMATA before, but watching them perform, singing their covers of Kelly Clarkson and Avril Lavigne, and dancing to their indie rock music was an amazing experience. I will be listening to more of MMATA and highly recommend "Say It (To My Face)." 

Ella Jane – 6/10. Nothing stood out about her performance. She wasn't great live, and her songs sounded the same to me. The biggest standout, and she gave a good performance with it, was "Nothing Else I Could Do." 

Leith Ross – 7/10. I would rank them higher if I liked slow music more. They were a good performer, and "We'll Never Have Sex" is a fantastic song.

Ethel Cain – 9/10. Amazing stage presence! I love her voice; she came into the crowd at the end of her set and sang to people. I like her a lot, but I can tell that as an LGBTQ artist who meshes her identity with Christianity, she represents a lot to people who grew up in the church and LGBTQ. Go listen to "American Teenager" and "Crush" immediately. 

Arlo Parks – 4/10. I don't like Arlo Parks, but unfortunately, I had to watch her to save my spot for the next two people. 

Boygenius – 10/10. WOW! One of my all-time favorite bands, and Phoebe Bridgers and Lucy Dacus are two of my favorite solo artists, too. Hearing "Leonard Cohen," "Satanist," and "Salt in the Wound" live was life-changing. I love boygenius. 

Lana Del Rey – 100000/10. I don't know how to review Lana Del Rey. She debuted "Margaret" for the first time live and brought out Jack Antonoff as a surprise guest. "Young and Beautiful" is one of my favorite songs ever. Ending the weekend with LDR was a perfect end to the most perfect festival. 
All Things Go was the experience of a lifetime, both this year and last year. Being led by so many female, non-binary, and LGBTQ artists, the festival creates a safe space for people to enjoy music and have fun. Even with all the chaos on Sunday, the atmosphere was joyous and supportive. Make sure to mark your calendar for ATG 2024 on the first weekend of October!