Respect the Classics: Queens of the Stone Age and Deaf Radio
Queens of the Stone Age (QOTSA) are not (yet) regarded as an official "classic rock" band, so to speak, however, their influence on modern heavy rock puts them at par with the classics. QOTSA has been one of my favorite bands for the majority of my life as a result of my parent's awesome taste in music. Recently I was searching for a band that I could relate to QOTSA so that I would have a reason to write about them; enter: Deaf Radio.
I am Greek American and very proud of my heritage, my dad told me to take a listen of a Deaf Radio song and I liked it very much. Then I found that they were from Athens, Greece and I was thrilled. Listening to their debut album, Alarm felt eerily familiar to me and it was initially difficult for me to understand why I recognized this distinct sound. Then I realized that the heavy guitar, rolling drums, thumping bass, and falsetto voice were characteristic of the desert rock genre that QOTSA helped to create. It is extremely evident that Deaf Radio was heavily influenced by the instrumental and vocal aspects of Josh Hommes (lead singer of QOTSA) and crew, through almost all songs on Alarm and their newest release, Modern Panic. Specifically, the song "Colours" off of Deaf Radio's new album has an almost identical guitar riff similar too many of the songs off of QOTSA's self-titled album.
Another interesting similarity between the two bands is the recurring usage of the words "deaf" and "radio." In fact, QOTSA's third installment is entitled Songs for the Deaf and features a running narrative throughout the whole album regarding different radio stations, complete with annoying radio hosts and the sound of static like the sound of changing an old car radio.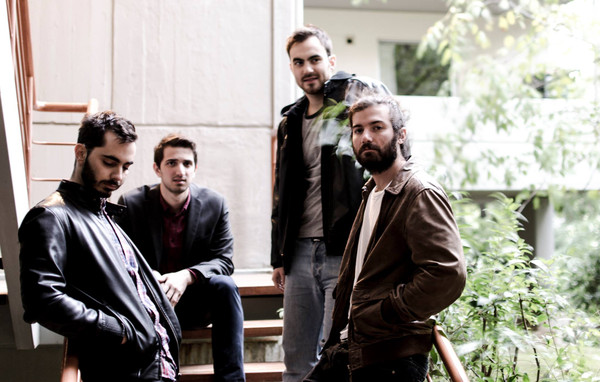 Queens of the Stone Age has been a successful heavy, desert, stoner rock band since 1996. Each member of the band has been involved in several side projects, most notably the band Kyuss and Them Crooked Vultures (which featured Dave Grohl and John Paul Jones). Grohl, the drummer for Nirvana and frontman of the Foo Fighters, played the drums on the band's most recognized single, "No One Knows." The unique lyrical talent, production ability, and voice of Hommes have been utilized by a band I have also written about, the ArcticMonkeys. The Monkeys album Humbug featured several tracks produced by Hommes, and frontman Alex Turner made a vocal appearance in the QOTSA track "If I Had a Tail." Obviously, QOTSA has had its foot in almost every modern rock and roll band in some capacity, whether it be directly like the Arctic Monkeys or influentially, like Deaf Radio.
For this particular comparison, I'm going to stray from my normal lyrical comparison and instead mention some song titles by both bands that have very similar sounds:
Queens of the Stone Age                                      Deaf Radio
Better Living Through Chemistry                           …And We Just Pressed the Alarm Button
No One Knows                                                           Vultures & Killers
Avon                                                                             Colours
I could fill up several more pages featuring songs from the two bands that have similar sounds, but the aforementioned tunes are great places to start. There is something hauntingly beautiful about how both bands manage to incorporate their unique vocalists with heavy, dirty rock. What separates Deaf Radio from simply being a QOTSA cover band is the influence of their culture on their music. The lead singer still carries a Greek accent with him in every song, and some songs even have Greek words in the title, like "Astypalea" (an island in the Aegean sea), or in the lyrics.
It is very exciting to discover a new band that fits the exact genre of music that you have been obsessing over, but it is important to be able to find the root that makes their sound unique. Often times, this root can be traced to an older band that has become successful in pioneering a unique style of music. When you listen to the new Deaf Radio album, make sure to preface it with a Queens of the Stone Age discography binge. Why? Because you have to respect your classics.