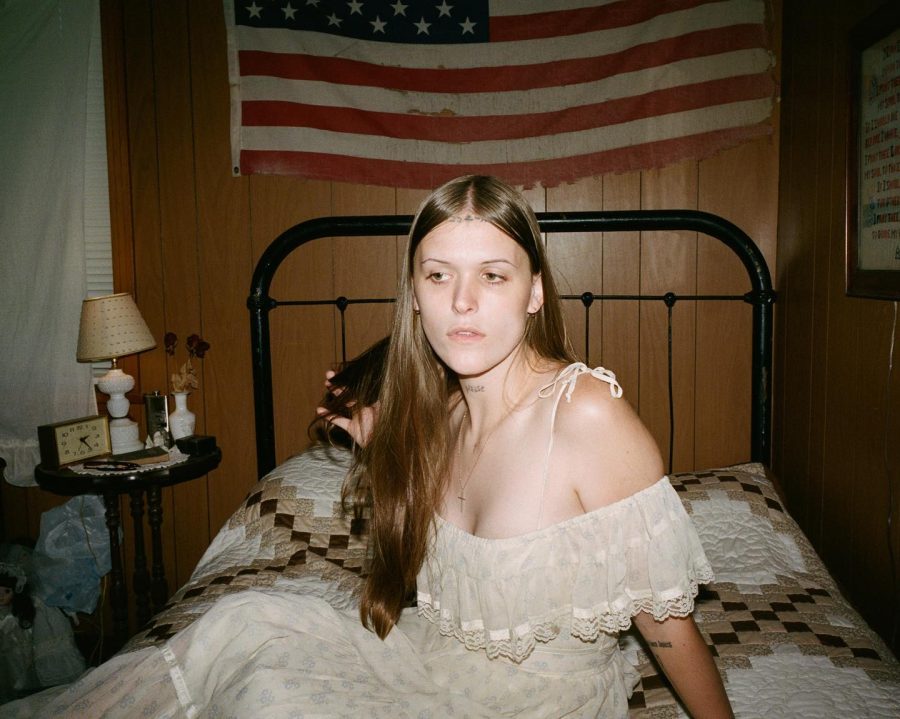 Ethel Cain: The Dark Spirit of Southern America
November 20, 2022
Singer-songwriter Ethel Cain, legally known as Hayden Silas Anhedönia, describes the birth of Ethel Cain as a spiritual possession. She put on a handmade white vintage-inspired dress, and Ethel Cain took over her body—commanding her to create dark, eerily beautiful Americana ballads. In her debut album Preacher's Daughter, released in May 2022, Cain takes the listener through the life of Ethel Cain (the persona), an unconventionally all-American girl.
Set in 1991, the concept album begins with tales of Ethel's religious upbringing as a preacher's daughter. In the album's first track, "Family Tree (Intro)," Cain sings, "Jesus can always reject his father/But he cannot escape his mother's blood." This sets the tone for the album: Ethel rebels against her upbringing but cannot escape it. She soon leaves her conservative, religious family and Act II of the album begins with the 9-minute ballad "Thoroughfare." While on the run, Ethel meets a man named Isaiah who offers her a ride, saying, "'Hey, do you wanna see the west with me?/Cause love's out there and I can't leave it be.'" The two travel from Texas to California, from motel rooms to diners, in search of something greater. At the end of their trip, they may not have found something greater, but they found each other. The two become lovers and Ethel begins to find her new home with him.
However, Ethel's story soon takes a turn for the worse. Her newfound lover turns dark, and Ethel's relationship is soured by drugs, abuse, and exploitation. Ethel's life ends when she is murdered and cannibalized by Isaiah, but her story continues from the afterlife. From Heaven, she sings, "What I wouldn't give to be in church this Sunday/Listening to the choir so heartfelt, all singing/God loves you, but not enough to save you." Even in death she is drawn to the religious community she grew up in, but she still struggles with being fully faithful. Church made her feel part of a tight-knight community, yet also isolated by religious hypocrisy. The record then ends with "Strangers." Ethel looks down on her mother, assuring her that she doesn't blame her for loving her in the best way she could. The final lines of the album are "Mama, just know that I love you (I do)/And I'll see you when you get here." In death, Ethel finally makes peace with her upbringing.
The haunting story of Ethel Cain echoes themes from Cain's real life. Growing up in rural Florida, Cain was homeschooled by her born-again mother and heavily surrounded by religious culture. The media she consumed was largely limited to Christian music and the horror or true crime television she snuck in at her grandparents' house, defining Cain's childhood and later inspiring her own music. Cain, assigned male at birth, struggled with her gender and sexuality as a child and was sent to religious therapy when she came out as gay to her mother. Upon graduating high school, Cain fell into a depression defined by drugs and identity crises. On her 20th birthday, though, she finally embraced her transgender identity and Ethel Cain was born soon after. The persona arrived at the right time: providing Cain an outlet to address her upbringing through dark, melodramatic storytelling.
Despite the widespread attention Cain has received from Preacher's Daughter, she does not want to be famous; she merely has a story to tell. Now 24 and living in rural Alabama with her sister, Cain can never see herself living in a big city like New York. She prefers the nature and anonymity of Alabama—being able to go from an abandoned church to a Waffle House as just another local. She is proud of her Southern roots and has no plans to abandon them anytime soon. She intends to make two more albums in the Ethel Cain universe—following Ethel's mother and grandmother, respectively—fusing her personal background with a darkened imagination to conceptualize three generations of Southern women. While Cain may not want to be famous, she does want her stories to be known, and she has attracted a cult following who will do just that. Fans are eagerly waiting for the spirit of Ethel Cain to emerge once again, this time with a new twist on the Southern Gothic narrative.