Big Meme Moods: "When someone asks you how your night went"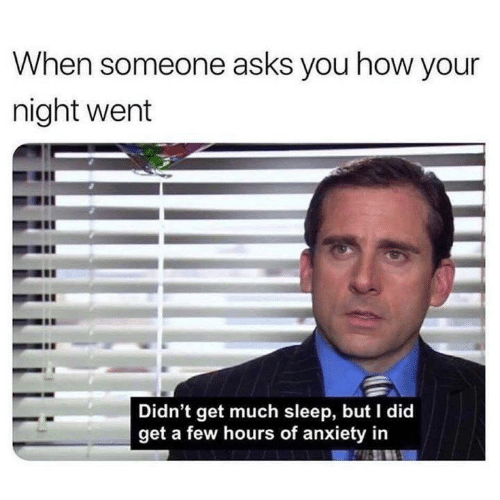 As a college student, the stress and thoughts about upcoming assignments tend to take a toll on me late at night. I have long, insufferable nights of rolling around in bed, trying to ease my mind and fall asleep. I found a meme that embodies this suffering, where it reads, "When someone asks you how your night went." It shows a screencap of Michael Scott from the office saying, "Didn't get much sleep, but I did get a few hours of anxiety in." I made a playlist of bedroom pop songs for those sleepless nights, which could help some of you get some rest.
The first song is "Only in My Dreams," by The Marías. It is a relaxing psychedelic-soul track perfect for those long nights. The slow, repetitive nature of the song and the hypnotic guitar riffs form a calming melody that makes my eyes grow sleepy. Many of their other songs have a dreamlike fusion of jazz and psychedelia that are perfect for a restless situation. I would recommend checking out some of their other work if you cannot get enough of this tranquilizing music.
The next track is "Tiresome," by Felivand, who I have been a fan of since her SoundCloud days. I actually discovered her music one night at 3am, searching for some tunes to unwind and fall asleep to. Her voice is undeniably alluring and perfect for a soothing atmosphere. This song has dreamy trip-hop textures paired with Soul and R&B vocals that create a feeling of the title itself, "Tiresome."
The following track is a collaboration by Jakob Ogawa, featuring Clairo called "You Might Be Sleeping." Both artists have similar styles, in that they utilize dream-pop and melody-driven elements. Their styles are also associated with rumination, which is the focused attention on the symptoms of one's distress. People often experience rumination late at night, but this song's keyboard loops and calming vocal harmonies alleviate this distress.
"I Feel Best When I'm Alone," by Michael Seyer is another humble bedroom pop recording that I recommend falling asleep to. It has a nice homemade, jazzy feel that consists of a slow keyboard melody and raspy vocals. Its wistful, down-tempo R&B aspects and swirling synths create a relaxing sensation while trying to get rest.
As finals are approaching, it is necessary to find ways to calm down from the stress and anxiety of school. Bedroom pop is one of my favorite subgenres of indie music for its relaxing tones. If you are craving more songs to fall asleep to, I recommend checking out other tracks from these artists.