Bands Behind Bars: A Quick Look at Incarcerated Concerts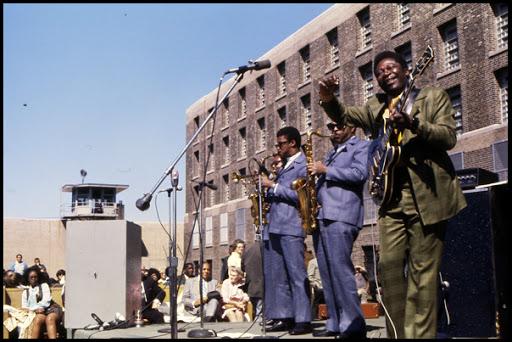 On a clear Chicago day in September 1970, 2,117 inmates assembled in the yard of Cook County Jail, America's largest jail at the time, referred to as "The jungle". They came to see BB King, "the chairman of the board of all the blues singers", make history as he performs one of his most iconic concerts ever. 
On that day, King put on an electrifying performance, reaching far back into his discography and choosing songs he felt the audience would connect with more than recent hits. King put great thought into his setlist, making sure to play songs that would free prisoners minds with nostalgic hits like "Sweet Sixteen" and "3 O'clock Blues". King also had extensive banter with the attentive audience throughout the performance. Most notably during "Worry, Worry, Worry" where King asks the inmates to speak up so their wives can hear them and insists that men and women are God's gift to each other. 
King had great sympathy for those incarcerated in the Cook County Jail, which mostly consisted of young Black men. As King said "When we got there, we found that about 70 percent to 80 percent of the people in there were Black or of other minority races and very young, in their teens or early twenties" reflecting the racist sentencing practices of the Chicago courts.
The Cook County Jail was a nightmare for all who entered it, housing some of the nation's most notorious criminals like Al Capone. Prior to B.B. King's visit, the jail had suffered deep budget cuts that caused many guard positions to be slashed. To ensure the "security" of the facility the jail implemented a "barn boss" system that gave the most intimidating prisoners guard-like rolls. This created an atmosphere of fear and distrust, turning the jail into a violence fueled environment. 
But for just a moment, there was undeniable happiness. The inmates were overjoyed by the experience describing it to one reporter as "…an all-too-rare recognition of [their] humanity.". 
King was not the pioneer of jail concerts though, that title undeniably goes to Johnny Cash, who in 1968 performed to Folsom Prison, recording the groundbreaking record "Johnny Cash At Folsom Prison". Cash famously performed a song written by then inmate, Glen Sherley, who would go on to be a songwriter of notoriety. 
Cash was handed the song the night before and fell in love with the lyrics and stayed up all night trying to get the rhythm right. The next day, to Sherley's complete shock, his song was played by the legendary Johnny Cash and forever ingrained into music history. 
These performances were so successful that many artists would follow in their footsteps. Record labels fell in love with the unique setting that was sure to sell LPs. Artists also appeared more down to earth, and many felt they were raising awareness for an at the time taboo conversation about incarcerated individuals' rights. 
Jerry Garcia and John Kahn have a well-regarded jail concert at the Oregon State Penitentiary. Only using acoustic instruments, the two artists performed one of their more iconic duo appearances.. Fans especially love the encore performance of "Reuben and Cherise". 
The Sex Pistols are also known for a popular jail concert, but the result was dramatically different. Their mark on prison playing is "The Sex Pistols Live At Chelmsford Top Security Prison" which was an absolute failure of a concert. The inmates booed and heckled them and even spat towards the stage at various points. The audience was described as "overwhelmingly indifferent" to the concert for most of the show. Regardless of the outcome, the meaning of a major band playing in a facility that houses many who are not properly aided by social services far outweighs the costs. 
Music keeps hope alive and all of these performers knew it when they played to their captive audiences. Concerts in jails and prisons everywhere provide inmates with a unique opportunity to feel human again. In the satanically sanitized, lonely, and often seemingly unearthly environment that is the prison system, an individual can lose themselves in the insanity of it all. BB King, Johnny Cash, even the Sex Pistols (acceptable performance or not) created an environment where these people lived beyond their prison uniforms. 
No matter the strength of one's character, the prison industrial complex is a meat grinder, full of experiences that seem hopeless. For just a moment, in the long story that is their prison experience, these individuals are set free. As King put it after his 1970 performance, "Don't get me wrong. I don't think that when a guy does something wrong, he shouldn't be punished, but if he does it as a human being, he should pay for it as a human being.".
View Comments (4)